Climate-KIC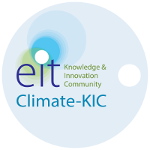 Goals of the Climate-KIC
The European Institute of Innovation and Technology (EIT) has built three Knowledge und Innovation Communities (KIC): Climate-KIC, EIT ICT Labs, and KIC InnoEnergy. The Climate-KIC faces challenges in climate change, the solutions to which demand technological innovation, alongside economic and social change. In some cases, combating climate change may require a type of revolution in the way energy is used in the economy and in private households. In this context, Climate-KIC is intended to stimulate and accelerate this innovation in energy usage. The fight against climate change and adaptation to changes in the way of life can present significant challenges to our society, but it also presents a huge potential for innovation, economic prosperity, and improved quality of life.
The Vision of Climate-KIC
Climate-KIC seeks to take on a world-leading role in the transition to a low-carbon society.
Through a merger of excellent education, research, industry, and other public establishments, Climate-KIC brings together a partnership of high innovative potential to work against climate change and develop a sustainable energy transition.
Climate-KIC encourages partnerships between the public and private sectors to immediately make possible the introduction of environmentally friendly products and services. Thereby, the focus points lay in education, innovative projects, pathfinder projects, and practices in entrepreneurship.
Structure of Climate-KIC
Climate-KIC is composed of six co-location centres (CLC) and six Regional Innovation and Implementation Communities (RIC) across Europe. The six national centres are founded in:
The regional centres (RICs) are located in:
Partners of the national and regional centres come from the scientific and economic communities, as well as the public sector. Association Climate-KIC has 25 core and more than 170 (in 2013) affiliate partners. Climate-KIC is steered by CEO Professor Dr. Mary Ritter of the Imperial College London.