Entrepreneurship
Entrepreneurship is the core of the EIT's (European Institute of Innovation & Technology) vision that brings together such central elements as education, research and industry. One of the highest priorities of Climate-KIC is to encourage entrepreneurs and companies to bring their ideas to the market. Climate-KIC seeks to strengthen the reputation of European entrepreneurship in the global market.
Entrepreneurship is, beside Innovation and Education, one of the three main pillars of Climate-KIC. There are exciting programmes for employees and freelance professionals working on climate-relevant projects offered by Climate-KIC Centre Hessen. Pioneers into Practice Programme is a good chance to get to know industry, research or government institutions locally and abroad and their climate change or energy-relevant projects. If you are a start-up in this field, we invite you to participate in our Accelerator Programme.
In 2014 we were happy to initiate a cooperation with the Helsinki-Uusimaa Region from Finland. Participants from this region are very welcome to take part in Pioneers into Practice and Acclerator Programme!
We inform you gladly also about further relevant programmes.
Climate-KIC Accelerator (former Incubation) Programme for Start-ups
Are you planning to set up your own business in the low-carbon field? Or are you an existing entrepreneur who wants to venture into the climate change mitigation market with your product or service? Then the Climate-KIC Accelerator Programme is just right for you.
The Climate-KIC Centre Hessen is one of six european regional centres (Regional Innovation & Implementation Centre, RIC) of the european Climate-KIC (Climate Knowledge & Innovation Community). The others are West Midlands (UK), Valencian Region (Spain), Emilia-Romagna (Italy), Lower Silesia (Poland) and Central Hungary. These regions are developing a range of initiatives to support the transition to a low-carbon economy.
The Accelerator Programme can provide support to start-ups and existing entrepreneurs in developing of ideas in the field of climate change mitigation. Successful proposals will have access to a service package provided by the RIC partners.
Climate-KIC Accelerator Hessen 2015 call is open until 25 July 2015.
ClimateLaunchpad (former Clean Launchpad) Programme for Business Ideas
If you have an idea in the climate change mitigation sector which might become your business idea, join our ClimateLaunchpad Programme. During a boot camp you will be tought by the experienced coaches the fundamentals about starting-up. Followed by weeks of homework, individual coaching andn coaching sessions you will present your business idea concept to a jury. Three best teams join the European Finals later in the year. You receive also non-cash prizes from our sponsors.
ClimateLaunchpad 2015 call is closed.
Pioneers into Practice Programme
The Pioneers into Practice Programme defines the central principles of knowledge exchange and knowledge enhancement in Climate-KIC. This programme seeks to bring out a new generation of specialists, entrepreneurs and policy makers whose common goal lies in the development of a low-carbon society. Participants will be given the opportunity to complete two 1-month-long internships in the six European regions. In these internships, the participants will be trained in systematic innovation and will gather first-hand experience in the implementation of innovative concepts.
Further relevant programmes
Horizon 2020
Horizon 2020 is the biggest EU Research and Innovation programme ever with nearly €80 billion of funding available over 7 years (2014 to 2020).
The EU-Kommission's internet portal informs you at first hand about the programme.
KoWi (European Liaison Office of the German Research Organisations) describes here the programme and the relevant information in German and English.
Nationale Kontaktstelle of Federal Ministry of Education and Research (BMBF) outlines here (in German) the application procedure.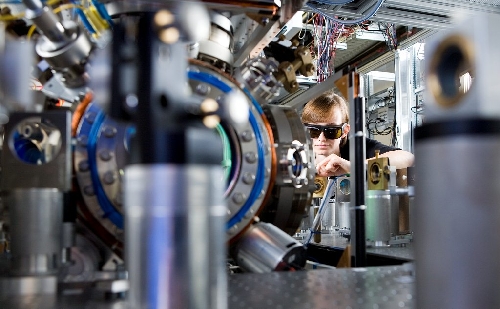 Einstein-Bose-Kondensator, Physics Laboratory, TU Darmstadt (Photo: Katrin Binner/TU Darmstadt)